Indian dinner party Menu with Sample Menus and Full Recipe Collections. When it comes to the Indian culture Parties and get together happen very often. We always find a reason to meet people and definitely out of all that Food plays a major role. Some chit chats and good food is all we need for a healthy and hearty mind. Menu for Indian dinner party comes with a perfect balance of food. It has dessert drinks, entree,main course and its complete.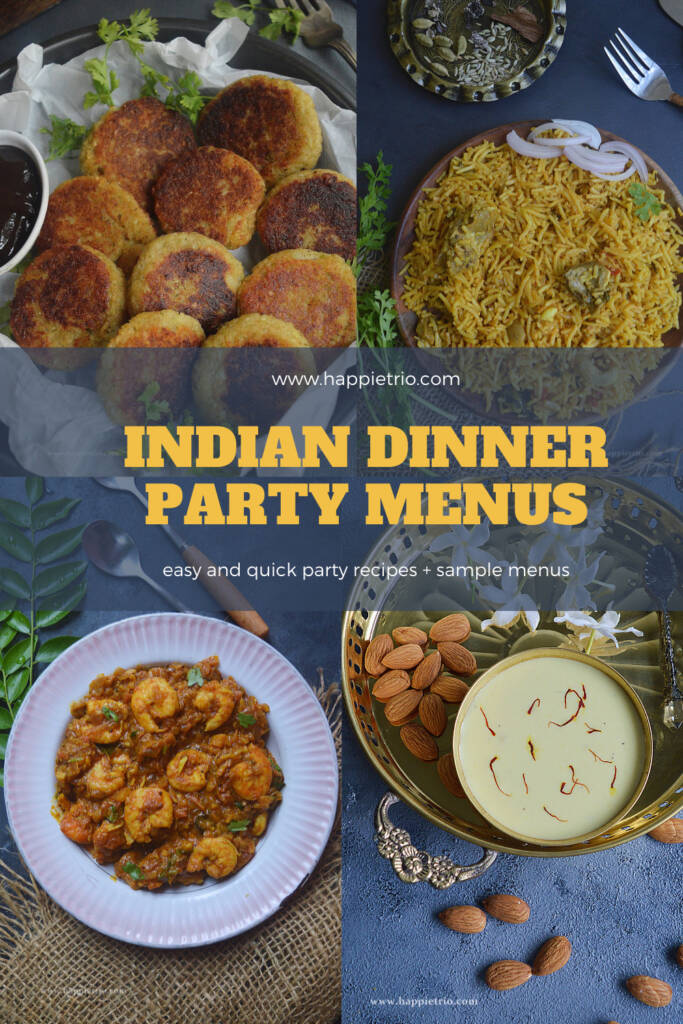 So here is me making your job simple? The most complicated part of hosting any party is deciding the menu. Let me quickly give some good tips and let you in ease.
Jump to:
How to plan an Indian Party Menu at home
When it comes to an Indian Party Menu. We divide our Menu into four courses.
Welcome Drink
Starters / Entree
Main course
Desserts
So these are the mains. Along with them based on the theme of the party and the audience. we can include few dips, Pickles, Fryums, or drinks(if it demands).
Always know or understand your guests take a quick study on their preference about veg or nonveg or any specific Vegan or Low carb diet.
Keep a checklist on the easy Indian dinner ideas or say quick 30 minute Indian dinner recipes. If there any elder guests make sure you include some healthy Indian dinner ideas like salads or sprots in the menu. This is just a suggestion keeping all these in the mind we can finalize on the menu.
Another most important thing is to confirm the veg and non veg guest. Have some options for the Indian dinner ideas veg in the menu.
Sometimes as a good gesture guests might offer to bring some food. Based on your convenience you may decide upon that and include them in the menu.
If it's a Potluck party or two hosts combine and host the party. Decide on the venue of the party and then you may split it up. I shall be writing a separate post on hosting a Potluck Party.
Indian Dinner Recipes
Indians mostly prefer roti or any Flatbread for dinner over rice. So always make a balance in the menu. Let everyone have options. Don't cook rice alone leaving roti as every one may not be comfortable.
Deciding the Menu for Indian Dinner Party
So here comes the important part, decide the Menu. If this is done, we are halfway through. So here is how I plan and decide on the dish.
Pro Tip: The most important thing. Always pick only the dishes and recipes you are comfortable with and have cooked before. This makes our cooking really fast and easy. We feel confident.
Welcome Drink - A fresh juice or any mojito - Keep it simple just a fruit lemonade like Watermelon Juice or Chilli Lemonade or Mango mojito. You can also opt for store bought drinks.
Appetizers - You can keep 2 varieties or 3 max. Not more than that. If you have a mix of veg and non veg guests select 2 or 1 nonveg appetizer and 1 veg appetizer.
Main Course - You can keep one biryani or Pulao along with a Dry curry and Korma. Also, any Flatbread or Phulka can be included.
Desserts - Keep any two desserts
Other Dishes - You can include few cut fruits, Dry Fruits, Papad, Pickle, or any dips.
Also, we may order from the catering if any specific food you have not decided to include in the menu and it may time consuming. For eg Roti or Phulka might need in a huge number and it might be time consuming to cook. In that case, you may order that. Similarly if planning to keep Icecream as one of the desserts you can order that too from outside. So again based on your convenience and menu you may decide this part.
More Indian Dinner Menu Ideas
Finger Foods for Parties
One more important thing is we can engage the kids and guests in the party with simple finger foods and dips. We can arrange a platter and place it in a corner. You can slice some cucumbers, Carrots or Watermelon, Grapes, Pineapples and arrange them in a corner. This might be a nice refreshment.
How to prepare for an elaborate Indian dinner party?
Start the preparations for the party a week ahead. Write down the recipes. You may use a sticky note. Paste them on the fridge of the kitchen counter where you feel comfortable.I prefer a planner and write it down there.
Write for the ingredients - Note down the ingredients from the menu. You can then quickly check on the pantry ingredients if it's available or not. If we have to buy, then what's the quantity. Note everything down. Even if it's Salt to a small spice note down each and everything.
Shop for the ingredients - Shop the ingredients at least 5 days before the party. Even if suppose we miss anything we can get after that. Also after shopping make sure you cross check the list and ingredients shopped if we have missed any. It's natural we tend to forget or miss anything. So always cross check and double verify.
Prep Work for the party - We can do the prep work in phases I usually start them two days before . Start with the time consuming and difficult tasks. We can start with the prep work. 2 days before.

Two days before

I usually start off with peeling the ginger and garlic in bulk and the grind them and freeze them as needed. If you decide to go with the store bought ginger garlic paste then you can skip this task.
Next, you can clean the Mint and Cilantro (Coriander leaves).
You can grate the coconut and freeze it.
Clean Store the curry leaves , Green Chillies.
Cook the Beans, Lentils, and Pulses as per the menu and freeze.
Make sure you keep the ice cubes ready.
You can prepare the basic tikka masala to grind them and freeze.

The Previous day

You can chop all the vegetables and fruits. I usually chop everything except onions and tomatoes. Cling wrap and put them in the fridge.
You can prepare the Raita, Jam, or dip if any, and store.
If making Gulab Jamun or any dessert you can definitely make the previous day.
You may roast a big batch of cashew nuts or raisins just in case if your many recipe demands.
Make the drinks if homemade or if store bough you can freeze them.
Of all the things the most important part, clean your houses and be ready for the next day.
Make a simple breakfast. Take a shower and start cooking early in the morning.
If you have some help use them for slicing the Onions and Tomatoes or a smart way use your food processor.
If biryani is there on the menu soak the rice and prep the meat.
Parallelly you can also cook the curry or lentils.
Start cooking the dishes one by one and cling wrap.
If the dishes have to be kept warm you can put them in a slow cooker.
All the other dishes which you have kept in the fridge transfer to a microwave safe serving bowl and heat before serving.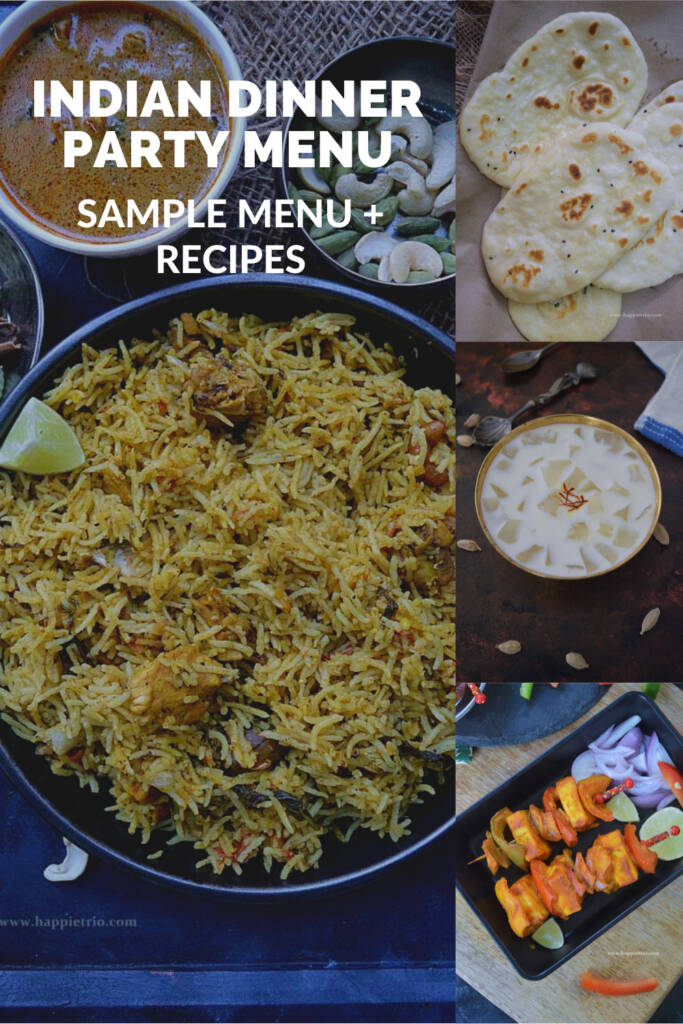 Recipe Ideas + Menus for Indian Dinner
Party Menu 1 - Non veg
Welcome Drink :Watermelon Pineapple Juice or Sabja Drink
Entree : Chicken Pakoda , Chikken Tikka
Main Course
Dessert : Vermicelli Kheer , Bread Halwa
Party Menu 2 - Non Veg + Veg
Welcome Drink : Fruit Mix Sarbath / Orange Jucie
Entree : Chicken Poppers , Cauliflower Paneer Tikki
Main Course:
Dessert : Baked bread Pudding ,Basundi
Party Menu 3 - Indian vegetarian dinner party menu
Welcome Drink : Rose Sweet Lassi , Tendercoconut Watermelon Juice
Entree : Mushroom Cutlet , Bittergourd Chips
Main Course :
Dessert : Rasgulla / GulabJamun , Carrot Halwa
Few Important tips and points to consider
Try arranging the dishes in a buffet style so the guests feel comfortable and help themselves.
Always keep the ice cream count extra as the kids might pick 1 or 2.Also the same applies to Papad or fryms.
The most important things keep paper cups and water facility arranged or mini water bottles.
Always pick the dishes whichever you are more comfortable with.Keep extra plates and paper towels near the wash area. I prefer disposable paper plates.
Keep some flowers in the house this will be pleasant and make the house look tidy and smell good.
If you are planning on a return gift. Plan the previous day and keep them ready.
★ I hope you find this post useful. I have shared all the simple tricks and tips which I always follow while hosting a party. If suppose you require any other Party Menu or Recipe Ideas. Please feel free to drop a comment and I am happier to help. Happy hosting !!
You can also follow me on Facebook, Pinterest, Instagram, Youtube, and Twitter for more updates